You find out the location of this island after Tikarel fireworks festival.
Island Challenge:
Sticky Finger: Collect 1000 Coins
Shish-Kebab: Kill an enemy with a burning arrow.
Faith of Honey Man: Find out what happened to Honey Man.
Puzzle
The main purpose of this island is for you to unlock the sale of Honey by saving the Honey man. The hardest part for the island is to solve the puzzle.
The key is to move all the blocks to the south western corner to form a bridge. The solution of the puzzle will look something like this: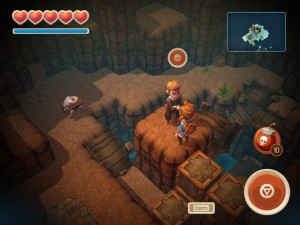 After which the man will reward you with a pot of honey. Now do not toss this honey pot away. You will have to carry it all the way to your next destination. IF you do accidentally toss it, you can buy it back at Tikarel store for 100 coins (that's 100 coins down the drain if you mess up.
Now head to Gillfork's Drop.